Another project that I have been working on is a plaster leaf garland. I have seen these before and love them, so I thought I would give them a try. I had planned on making a few extras for my etsy store, but I have run out of time!
Items needed for project:
Plaster of paris
Artifical leaves, I got a garland from Michaels for a dollar and just cut them off the the garland, be sure to leave the stem.
Jute twine
Wax paper
What you need is some regular plaster of paris, mix it up in a container, I used a paint stick, I mixed it rather thin and work FAST! I first tried painting it on w/ a brush, but ended up just dipping the leaves in the plaster and laying them out on wax paper. Let them dry and then tie short pieces of twine to the stem and then cut your garland piece what ever length you want it and then tie your leaves onto your garland voila!!! I love the white leaves and the twine.
I made a couple of the garlands, I have one on my hutch and then a small one on a book case.
So, if you get a chance to try it, you should I love them and will keep them up until Thanksgiving!
I am linking up to Lorie, she has an awesome blog with tons of great ideas, be sure and check her out!! I am also liking up with Stephanie Lynn and her great Sunday Showcase Party there always some great entries there too!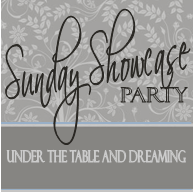 Have a great weekend.
Jodi